E-auction 451-363694 - fme_558732

-

II REPUBLIC Médaille, Rapport sur l'envahissement de l'Assemblée nationale le 15 mai 1848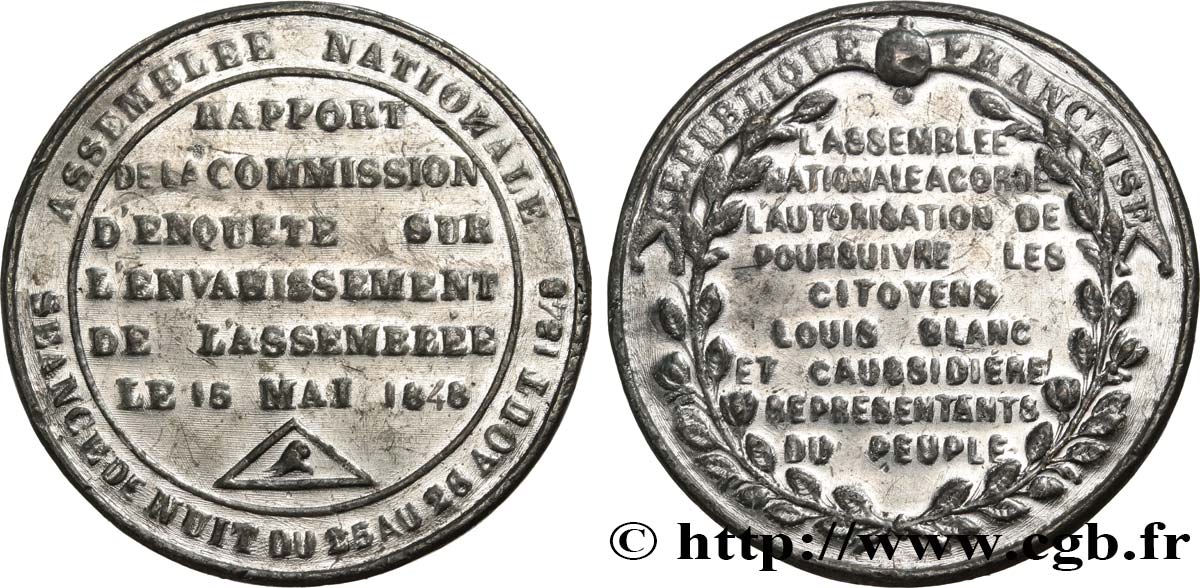 得先注册又得到批准才可以报价。
为了报价注册
. 客户应该得到公司允许,那种过程需要 48 个小时。别等出售结束那一天才登记。您报价的话等于您赞成买那物品,而且按« 保价 » 证明您接受
cgb.fr 因特网拍卖使用法
. 报价时只可以出全数值欧元总额。物品描述也说明销售结束时间,结束后出价都不会生效。 报价命令转达有时变动,等到最后秒钟增加否决的可能会。想多了解的话请注意
因特网拍卖常问
购货人不付费
| | |
| --- | --- |
| 估算 : | 120 € |
| 价格 : | 35 € |
| 最高出价 : | 35 € |
| 拍卖结束日期 : | 06 December 2021 18:54:00 |
| 竞拍人 : | 4 竞拍人 |
种类
Médaille, Rapport sur l'envahissement de l'Assemblée nationale le 15 mai 1848
正面
---
正面的文字
ASSEMBLÉE NATIONALE / SEANCE DE NUIT DU 25 AU 26 AOUT 1848.

正面的说明书
Au centre, en six lignes : RAPPORT/ DE LA COMMISSION/ D'ENQUETE SUR/ L'ENVAHISSEMENT/ DE L'ASSEMBLÉE/ LE 15 MAI 1848 ; en-dessous niveau avec un bonnet au centre.

背面
---
背面的文字
DANS UN RUBAN RÉPUBLIQUE FRANÇAISE.

背面的说明书
Entre deux rameaux, en neuf lignes : L'ASSEMBLÉE/ NATIONALE ACORDE/ L'AUTORISATION DE/ POURSUIVRE LES/ CITOYENS/ LOUIS BLANC/ ET CAUSSIDIÈRE/ REPRÉSENTANTS/ DU PEUPLE.

历史细节
---
SECOND REPUBLIC
(24/02/1848-2/12/1852)
During the revolution of February 1848, Louis-Philippe abdicated in favor of his grandson, son, but it is not recognized by the Chambers, February 24, the Republic was proclaimed by a decree of the Provisional Government. It proclaimed the freedom of labor, the abolition of the death penalty in politics, universal suffrage. National workshops were created in March 1848. Elections were held in April and lead to the success of moderate Republicans. The closing of the national workshops causes riots are quelled by General Cavaignac who is appointed Chairman of the Board. The rebels were executed, imprisoned, deported. The legislative power is vested in a single meeting as President of the Republic, elected by universal suffrage, holds executive. The latter is the Prince Louis Napoleon. It conflicts with the meeting in 1850 for his re-election is unconstitutional. Louis Napoleon then engages in the preparation of the coup, which enables him Dec. 2, 1851, to install a dictatorship. In November 1852, it is proposed to restore the hereditary imperial dignity. The plebiscite of November 21-22 gives nearly eight million yes for the Empire while not only collected about 250. 000 votes. December 2, 1852, Louis Napoleon was proclaimed emperor under the name of Napoleon III.