Live auction - bry_671061

-

LOUIS XIII Piéfort quadruple du quart de franc de Nicolas Briot 1618 Paris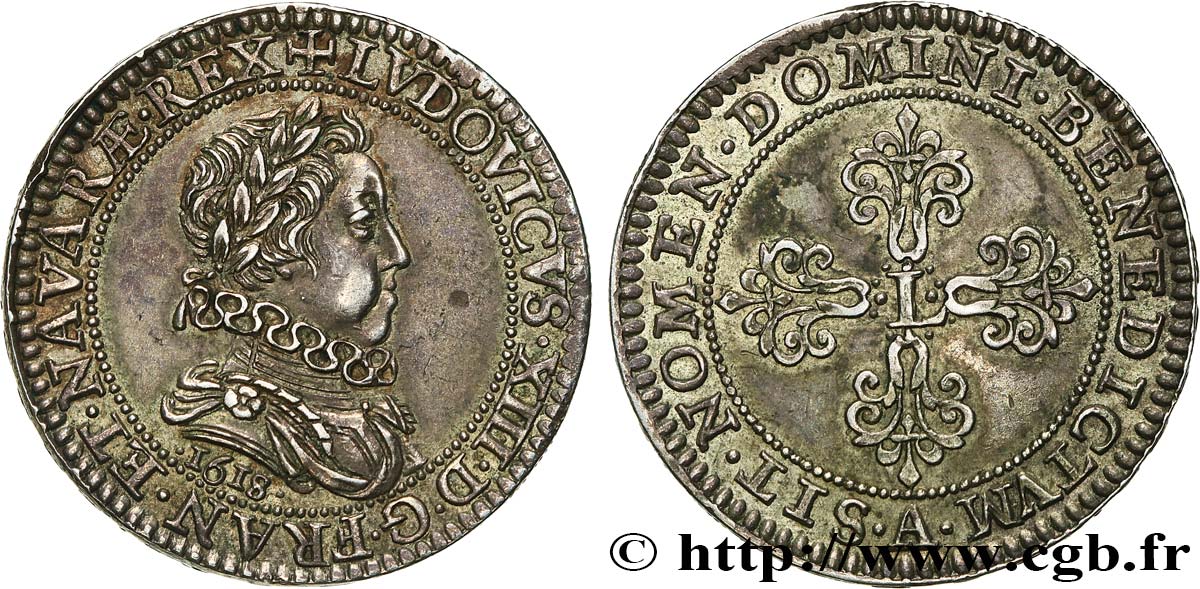 得先注册又得到批准才可以报价。
为了报价注册
. 客户应该得到公司允许,那种过程需要 48 个小时。别等出售结束那一天才登记。您报价的话等于您赞成买那物品,而且按« 保价 » 证明您接受
cgb.fr 因特网拍卖使用法
. 报价时只可以出全数值欧元总额。物品描述也说明销售结束时间,结束后出价都不会生效。 报价命令转达有时变动,等到最后秒钟增加否决的可能会。想多了解的话请注意
因特网拍卖常问
最高出价方将支付12%的不含税的拍卖费用
| | |
| --- | --- |
| 起拍价 : | 8 000 € |
| 估算 : | 15 000 € |
| 价格 : | 8 000 € |
| 最高出价 : | 8 000 € |
| 拍卖结束日期 : | 15 June 2021 16:21:54 |
| 竞拍人 : | 1 竞拍人 |
种类
Piéfort quadruple du quart de franc de Nicolas Briot
侧面
inscrite : .PERENNITATI. / . IVSTISSIMI./.REGIS.
关于品相的说明
Ce piéfort est frappé sur un flan large et régulier. Petit coup sur la tranche à 9 heures au droit. Reliefs nets avec le portrait du roi bien venu à la frappe. Exemplaire recouvert d'une légère patine grise de médaille
家谱
Exemplaire provenant de la fameuse vente Münzen und Medaillen AG de Bâle, vente 81, 19 septembre 1995, n° 1169 (vendu avec sa pochette de la vente)
正面
---
正面的文字
+ LVDOVICVS. XIII. D. G. FRAN. ET. NAVARÆ. REX.

正面的说明书
Petit buste enfantin de Louis XIII à droite, lauré, drapé et portant une fraise ; au-dessous 1618.

正面的翻译
(Louis XIII, par la grâce de Dieu, roi de France et de Navarre).

背面
---
背面的文字
.SIT. NOMEN. DOMINI. BENEDICTVM. - A, (LÉGENDE COMMENÇANT À 6 HEURES).

背面的说明书
Croix fleuronnée portant une L en cœur.

背面的翻译
(Béni soit le nom du Seigneur).

评论
---
Piéfort particulièrement rare de poids quadruple frappé pour les présidents et conseillers de la Cour des monnaies de Paris à l'occasion du changement d'effigie du roi de 1610 (information inédite issue de nos recherches en archives).

历史细节
---
LOUIS XIII THE RIGHT
(14/05/1610-14/05/1643)
Son of Henry IV and Marie de Medici, Louis XIII was born in Fontainebleau in 1601. King in 1610, he first reigned under the regency of his mother, who followed a policy of conciliation with Spain and Great showered favors to ensure their peace. The States General met in 1614-1615, showed disunity Orders and the impossibility of financial reforms. The favorite of the regent, Concino Concini, Marquis d'Ancre, was at the head of affairs until 1617, when he was assassinated on the orders of King. The new favorite, Albert de Luynes, received the dignity of constable and ruled until his death in front of Montauban in 1621, continuing a favorable foreign policy to the Habsburgs. Returned to power, the queen mother ushered the Council one of his creatures, Richelieu, former bishop of Luzon. From 1626 and until the end of his reign as Prime Minister Richelieu was the absolute master of the State. Successive plots of Marie de Medici, Gaston d'Orléans, Anne of Austria and Cinq-Mars could not overcome the favor of Cardinal. He submitted the Protestant party (taken from La Rochelle, 1628 Edict of Grace Ales, 1629) and brought to France in the Thirty Years' War, war covered first (1630) and opened (1635). This long business "lowering of the House of Austria" would last until 1659. Richelieu did not see the end, but could attend the conquest of Artois, Alsace and Roussillon. With the 1630s came a "revolution in the art of governing" corresponding to the Ministry from Richelieu and the entry of France into the Thirty Years War. In the context of the "military revolution" of the seventeenth century (staff tenfold, preponderance of infantry and guns, fortification bastion), the war effort unprecedented justified and imposed an all-powerful state, led by the only reason State. "Giant of the great century", studied by the Anglo-Saxons than by historians of the Hexagon, the French army became an armed Leviathan tax that feeds weighed like never before. The exercise of power gained in efficiency, with the organization of the State Council and the institution of stewards. A first control opinion and language fell into place (institution of the French Academy, creating the Gazette de France). Power also handed brutality: evoking the early 1630s, Omer Talon wrote that "the things we wanted by authority and not by concert". The Fronde appears as a reaction to the failed too rapid changes. Warrior king, King entered his duties, Louis XIII left to the Grand Cardinal while maintaining the direction of armies, he acted with bravery (Siege of La Rochelle, 1628 No case of Suse, 1629, conquest of Roussillon 1642). He used Richelieu without loving, but after his death in 1642, kept his ministers and continued its policy until his death the following year. On married Anne of Austria in 1614, he had two son, Louis XIV and Philippe d'Orléans.