Live auction - bry_647451

-

LOUIS XIV "THE SUN KING" Écu à la cravate, de Navarre 1672 Saint-Palais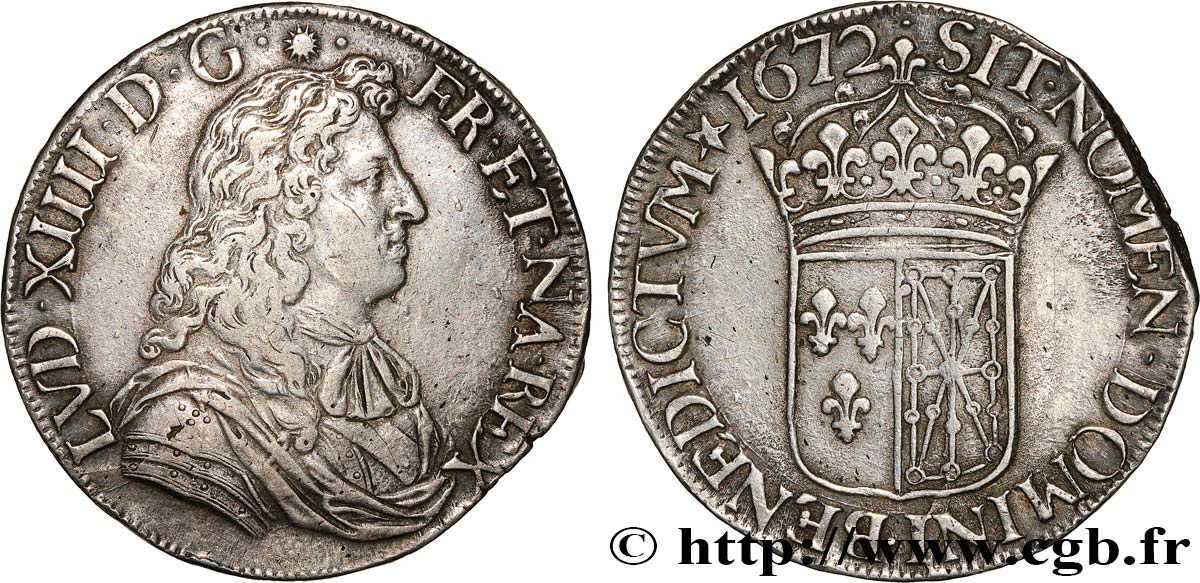 得先注册又得到批准才可以报价。
为了报价注册
. 客户应该得到公司允许,那种过程需要 48 个小时。别等出售结束那一天才登记。您报价的话等于您赞成买那物品,而且按« 保价 » 证明您接受
cgb.fr 因特网拍卖使用法
. 报价时只可以出全数值欧元总额。物品描述也说明销售结束时间,结束后出价都不会生效。 报价命令转达有时变动,等到最后秒钟增加否决的可能会。想多了解的话请注意
因特网拍卖常问
最高出价方将支付12%的不含税的拍卖费用

结束日期
2021/03/09 14:00:00
bry_647451
1046
您需要先登录才能出价
登录点击这里
种类
Écu à la cravate, de Navarre
关于品相的说明
Cet écu est frappé sur un flan large présentant un bord de lame à 2 heures au revers. Infimes rayure sur la joue du roi et sous le D de D. G. Cet exemplaire est recouvert d'une légère patine grise. Petit défaut de flan sur l'épaule de la cuirasse sur laquelle les clous sont bien visibles
正面
---
正面的文字
LVD. XIIII. D. G. (SOLEIL). - FR. ET. NAV. REX.

正面的说明书
Buste drapé et cuirassé à droite de Louis XIV, avec la cravate de dentelle, la chevelure longue.

正面的翻译
(Louis XIV, par la grâce de Dieu, roi de France et de Navarre).

背面
---
背面的文字
.SIT. NOMEN. DOMINI. BENEDICTVM (MM) 1672.

背面的说明书
Écu couronné mi-parti de France et de Navarre.

背面的翻译
(Béni soit le nom du Seigneur).

评论
---
Ce type monétaire fut le dernier frappé dans la Monnaie de Saint-Palais. Il ne fut frappé qu'en 1672 à partir de carré utilisant le poinçon d'effigie à la cravate gravé par Jean Warin. Le 28 juillet 1672, un poinçon d'effigie fut déposé par Warin au greffe de la Monnaie de Paris et était destiné à la Monnaie de Toulouse, hors cet atelier ne frappa jamais d'écu avec ce poinçon. Il est probable que le poinçon destiné à la Monnaie de Toulouse, qui fut remis le 4 août 1672 au régisseur général Claude Thomas, fut déposé à la Monnaie de Saint-Palais. Cette hypothèse a été avancée pour la première fois par Christian Charlet, "Une utilisation à Saint-Palais, en 1672, d'un poinçon d'effigie destiné à la Monnaie de Toulouse ?", BSFN, juin 1994, p. 888-892. Il s'agit peut-être du plus bel exemplaire connu assez proche en qualité de celui de la collection Montalent (Vinchon) et de la vente Burgan, 26 juillet 1996, n° 482. La moustache du roi est bien visible. Il présente toutefois un flan irrégulier au revers, le flan ayant été découpé sur un bord de lame. Christian Charlet et Emmanuel Henry se sont particulièrement intéressés à ces écus de Saint-Palais. D'après les travaux de Fernand Arbez, 29.651 exemplaires ont été frappés pour un poids total de 3.296 marcs 1 once 21 deniers. Exemplaire issu de la même paire de carrés que l'exemplaire de la vente The Bru Sale, 9 décembre 2011, n° 189. Un article spécifique de Christian Charlet consacré à cette monnaie et cette série a été publié dans le Bulletin Numismatique de janvier 2021.

历史细节
---
LOUIS XIV THE BIG OR THE SUN KING
(14/05/1643-01/09/1715)
The reign of Louis XIV is the longest and most glorious in the history of France. Son of Louis XIII and Anne of Austria, born September 5, 1638, the third Bourbon king ascended the throne in 1643 and remained there for seventy-three years. He died on 1 September 1715, aged seventy-seven years. Between 1643 and 1661 in the Anne of Austria and the ministry of Cardinal Mazarin regency, absolutism was built in combat: inner struggle against the Fronde, external struggle against Spain. Personal reign of Louis XIV begins in 1661, when the young king decided to "govern by himself". Absolute monarchy reached its peak when the king is surrounded by an outstanding team of ministers Le Tellier, Louvois, Colbert, Seignelay. This prosperous period ends during the 1680s, with the first setback, the revocation of the Edict of Nantes (1685), the late great outdoor success and the gradual disappearance of the environment of the early years (Colbert died in 1683 Le Tellier in 1685 Seignelay in 1690, Louvois in 1691). The third and last part of the reign, between 1685 and 1715 is more difficult. The aging king did not find any similar employees. Glorious reign it was first a warrior kingdom. France will never experienced so many wars: Thirty Years' War, ended with the Empire in 1648, with Spain only in 1659, War of Devolution (1667-1668), Dutch War (1672-1678), war Spain (1684), War of the League of Augsburg (1688-1697), War of the Spanish Succession (1701-1713). She never enjoyed more victories and conquests: in 1648, the Treaty of Westphalia gave him Alsace, in 1659, the Peace of the Pyrenees Artois and Roussillon, in 1668, by the Peace of Aix-la Chapelle, she won Flanders, in 1678, by the Treaty of Nijmegen, Franche-Comté. In 1681, the king annexed Strasbourg. The following decades were less successful: in 1697 (Treaty of Ryswick), France ceded Luxembourg, in 1713 and 1714 (Treaties of Utrecht and Rastatt), she gave up Acadia, a prelude to the loss of America, fifty years later. The reign of Louis XIV corresponds fairly closely to the age of French dominance in Europe: France overtook Spain and will be soon supplanted by England, who holds the empire of the seas and extended the New World. To the glory of the victorious king and conqueror administrator adds the glory of the king, legislator, patron of arts and letters. Louis XIV and his ministers gave perfection to the monarchical construction: the law is reformed, the nobility submitted provinces subdued heresy reversed, artists and writers are at the service of the royal power. Lex uno una sub sole "one law under one sun" everything must revolve around the sun master. The whole of Europe feels the attraction and prestige of Versailles. The reality is probably less than flattering brilliant program: the royal administration remains too small to actually oversee the largest and most populous kingdom of Europe particularities resist; Protestants depart enrich the enemies of France. It remains that it is the image of the King of glory that has emerged in the memory, such as Louis XIV had decided and desired. Therein lies the real triumph of this prince for France and for Europe for the next century and for centuries to come, to contemporaries as for posterity, he was and remains the king by excellence. Coins and medals, which render us Jovian profile great monarch, will participate in this and this success. Louis XIV brought their attention: the Grand Siècle is also a great century of numismatics.