E-auction 459-370773 - bry_719416

-

PHILIP III "THE BOLD" AND PHILIP IV "THE FAIR" Obole tournois à l'O rond n.d. s.l.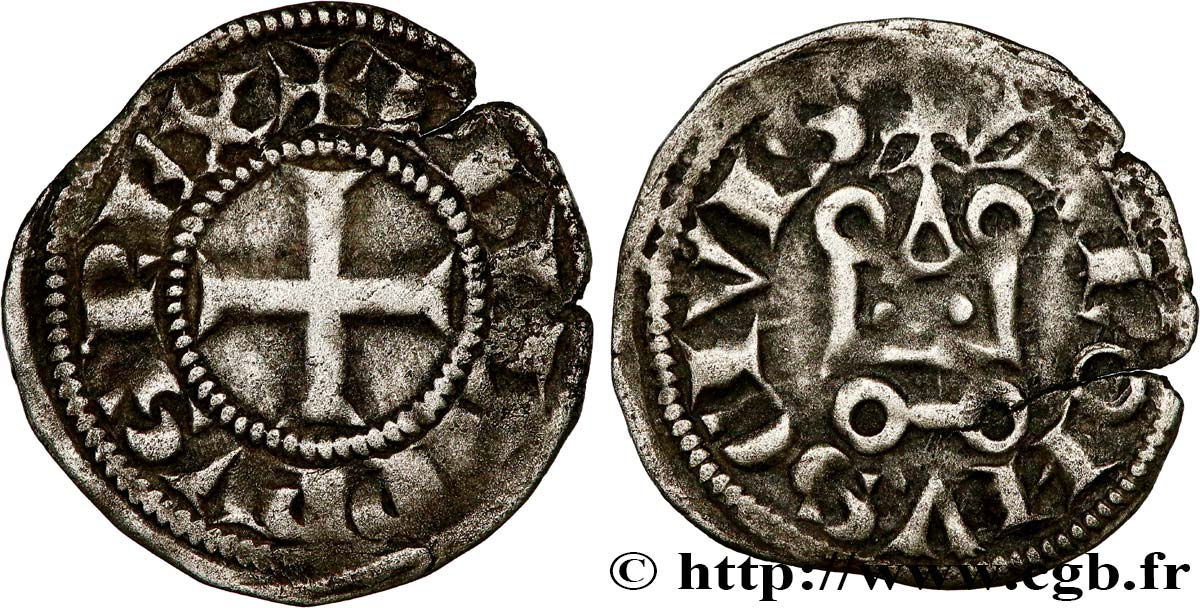 得先注册又得到批准才可以报价。
为了报价注册
. 客户应该得到公司允许,那种过程需要 48 个小时。别等出售结束那一天才登记。您报价的话等于您赞成买那物品,而且按« 保价 » 证明您接受
cgb.fr 因特网拍卖使用法
. 报价时只可以出全数值欧元总额。物品描述也说明销售结束时间,结束后出价都不会生效。 报价命令转达有时变动,等到最后秒钟增加否决的可能会。想多了解的话请注意
因特网拍卖常问
购货人不付费
| | |
| --- | --- |
| 估算 : | 80 € |
| 价格 : | 45 € |
| 最高出价 : | 50 € |
| 拍卖结束日期 : | 31 January 2022 15:07:00 |
| 竞拍人 : | 11 竞拍人 |
种类
Obole tournois à l'O rond
关于品相的说明
Flan plutôt large et irrégulier. Petite fissure à 3 heures au revers. Patine grise
正面
---
背面
---
背面的说明书
Châtel tournois sommé d'une croisette.

历史细节
---
PHILIPPE LE HARDI III AND IV PHILIPPE THE BEAUTIFUL ONE - COMMON CURRENCY (from 1280)
(05/10/1285-29/11/1314)
Born in 1245, eldest son of St. Louis, Philip III succeeded him at the age of twenty-five years. Having brought the Crusader army in France driven by his father to Tunis, he inherited in 1271 from the lands of his uncle Alfonso: Poitou and County of Toulouse. Peter, fifth son of St. Louis, he inherited the Perche. He bought the counties of Nemours (1274) and Chartres (1284). But the policy of Philip was mainly oriented towards the south. In 1272, he took possession of Foix. In 1273, Edward I lent him homage for his fiefs and, six years later, the King of France gave him Agen. In 1274, he ceded the Mont Ventoux area Holy See. From 1276, Philip III mingled conflicts over inheritance of the kingdoms of Navarre and Castile. In 1275, by the Treaty of Orleans Artois, Blanche, Queen of Navarre, betrothed his daughter, Jeanne, the future Philippe le Bel, preparing the meeting of Navarre in France. In Castile, the King of France took advantage of infants de la Cerda against Sancho, son of Alfonso X, but could not cross the Pyrenees. Finally, at the instigation of the Pope and Charles of Anjou, Philippe took the lead a crusade against Aragon after King Peter III has sparked the massacre of the Sicilian Vespers (1282) against the Angevins of Naples and surrounded the crown of Sicily (1283). In 1285, the French army conquered Roussillon and crossed the Pyrenees. After the difficult siege of Girona, the king of France was soon retreat. It was during this retreat that Philip died in Perpignan, 5 October 1285. Philippe retained the ministers of his father, but raised his favorites, such as Pierre de la Brosse, and let the intrigues of course tie around his wife intrigues that may explain the errors of his southern policy. His reign was marked by the first ennoblement granted by the king and the prohibition of ennoble their feudal vassals. Widower of Isabella of Aragon, Philip married in 1274, Marie de Brabant. His first wife, he was the future Philip IV and Charles, stem from the house of Valois. The second, he had including Louis, stem from the house of Evreux.