Live auction - bry_561857

-

PHILIP VI OF VALOIS Chaise d'or n.d.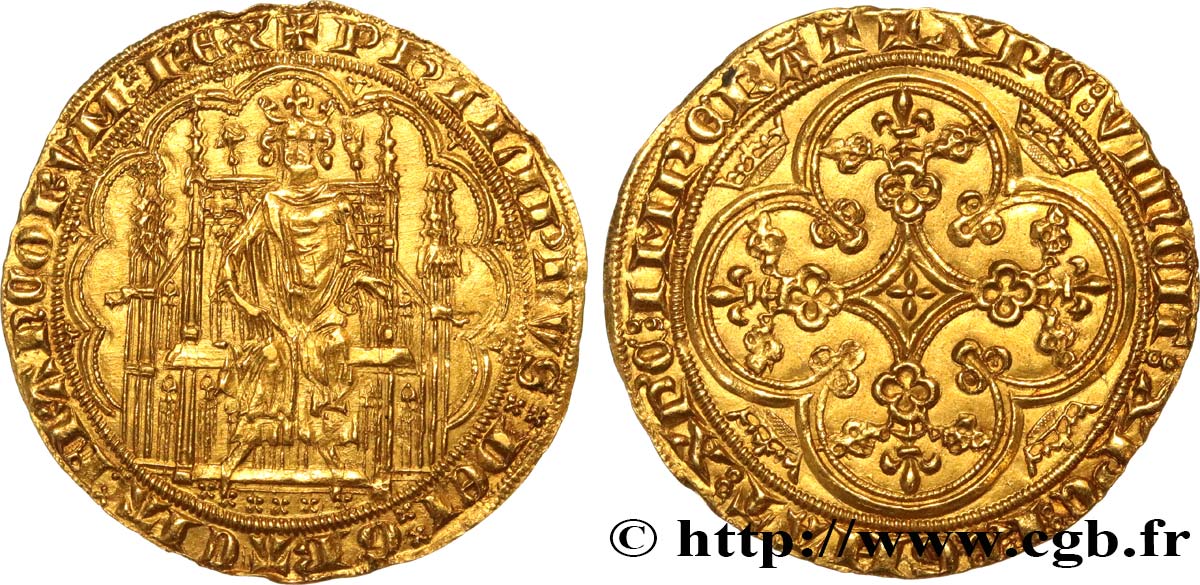 得先注册又得到批准才可以报价。
为了报价注册
. 客户应该得到公司允许,那种过程需要 48 个小时。别等出售结束那一天才登记。您报价的话等于您赞成买那物品,而且按« 保价 » 证明您接受
cgb.fr 因特网拍卖使用法
. 报价时只可以出全数值欧元总额。物品描述也说明销售结束时间,结束后出价都不会生效。 报价命令转达有时变动,等到最后秒钟增加否决的可能会。想多了解的话请注意
因特网拍卖常问
最高出价方将支付12%的不含税的拍卖费用
| | |
| --- | --- |
| 估算 : | 6 000 € |
| 价格 : | 4 600 € |
| 最高出价 : | 4 600 € |
| 拍卖结束日期 : | 10 March 2020 16:17:21 |
| 竞拍人 : | 2 竞拍人 |
关于品相的说明
Cette chaise est frappée sur un flan large, légèrement irrégulier. Exemplaire ayant été monté anciennement (petites traces de griffes sans soudure)
正面
---
正面的文字
+ PHILIPPVSX DEIX GRACIAX FRANCORVMX REX, (N ONCIALE, PONCTUATION PAR DEUX SAUTOIRS SUPERPOSÉS).

正面的说明书
Philippe VI assis dans une stalle gothique, couronné, tenant le sceptre fleurdelisé de la main droite et la main de justice de la main gauche, dans un polylobe interrompu en bas et cantonné de sautoirs.

正面的翻译
(Philippe, par la grâce de Dieu, roi des Francs).

背面
---
背面的文字
+ XP'C: VINCIT: XP'C: REGHAT: XP'C: IMPERAT, (N ONCIALE À VINCIT ET ROMAINE ET RÉTROGRADE À REGNAT, PONCTUATION PAR DEUX ANNELETS SUPERPOSÉS).

背面的说明书
Croix quadrilobée, feuillue et fleurdelisée, incurvée en cœur, dans un quadrilobe tréflé cantonné de quatre couronnes.

背面的翻译
(Le Christ vainc, le Christ Règne, le Christ commande).

历史细节
---
PHILIPPE VI Valois
(01/04/1328-22/08/1350)
Born in 1293, aged 35 at his accession to the throne in May 1328, Philip was the son of Marguerite of Sicily and Charles of Valois, which we could say that he was son, brother, uncle, son- king and the king himself never. Other claims, however, rose to the crown of France, those of the house of Navarre, heir rights Jeanne, daughter of Louis X, those of Edward III, heir to the rights of his mother, Isabella of France, daughter Philip the Fair. Edward III swore homage to Philip VI at Amiens in June 1329. However, in subsequent years, the incidents multiplied. Edward's war against the King of Scotland David Bruce held some time away from the English and Philippe Guyenne, in 1336, went to Avignon. His fleet was preparing to operate in the Mediterranean. The following year turnaround: the fleet passed in the North Sea. The war seemed close. In 1337 Toussaint, the Bishop of Lincoln, Henry Burgersh, came to Paris: he announced out of the tribute paid to Amiens, the questioning of the estate of France and the declaration of war. The Netherlands sided with England, Count of Luxembourg and King of Bohemia, John the Blind, sided with France, Alfonso XI also. In January 1338, Flanders rebelled against Louis de Nevers and Jan van Artevelde, captain of Ghent, took the county government. The following year, the Count of Flanders took refuge in Paris. Flemings recognized Edward king. Edward III then took the title of king of France and took up arms half out of France and England. 24 June 1340, the French and English fleets met off the coast of Bruges, near the outer harbor of Sluys. The total defeat of the French gave Edward the command of the sea. A truce was concluded in Esplechin following September. The war resumed in 1345. An Island landing in Flanders was no tomorrow. In 1346, John, son of Philip, Duke of Normandy, attacked the Guyenne and besieged Aiguillon. However, in July 1346, Edward landed in Normandy Cotentin and ravaged. Philippe off in pursuit, the two armies fought at Crecy, 26 August 1346. New and complete British victory, though outnumbered. Philippe fled, many of his vassals fell on the battlefield. In 1347, Edward took Calais and established a garrison. At the same time, a complex succession war devastated Britain, where the English party had long top. Only successful reign: the acquisition of Dauphiné Viennois, assigned to the eldest son of the Duke of Normandy in 1349 by Humbert II. At his death in 1350, Philip left a kingdom and a dynasty also shaken.